How to weave a simple flax basket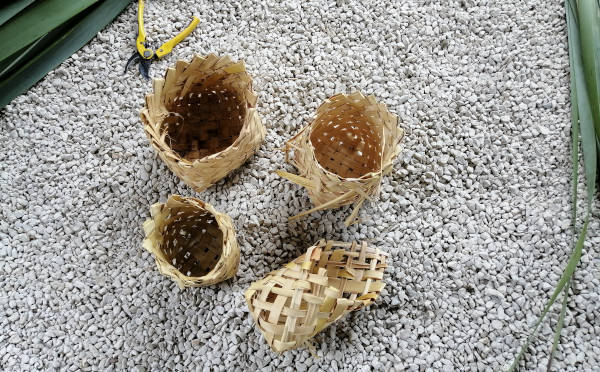 Flax is an easy to grow New Zealand native with heaps of uses around the garden as well as the flowers being a food source for bellbirds during late spring and early summer.

Follow basic step by step instructions and guidance to learn what you need and how to create your own woven flax basket.
Flax Basket Weaving Instructions
Step by Step Guide to make your own simple basket from New Zealand Flax
These traditional Maori square baskets are an excellent introduction to basic flax weaving and basket making. The steps are easy to follow and it is easy to produce a usable basket.
With a little practice you will remember how to do it from start to finish without the need for assistance.
The size of the finished basket is determined by the length and number of flax strips, their width and the amount of spacing or gaps in the weave. It is possible to extend the sides by introducing additional strips as you weave if you require a challenge.
Historically it was common practice for weaving students to give their first creation as a gift. Perhaps this was to encourage them to create another for their own uses and further improve their proficiency.
Have a go and don't be put off by your first attempts. You will certainly improve your speed and quality as you go.