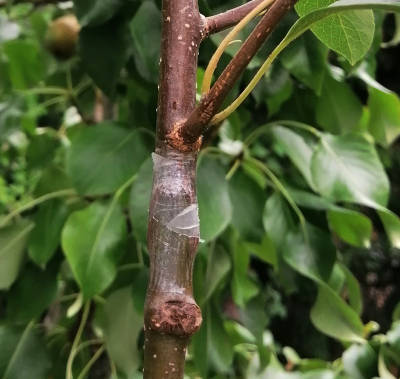 In the weeks and months after completing the graft it is important to check back and follow up with basic care to ensure the graft stays healthy and has the best chance for success.

It is usually obvious after a couple of weeks if the graft has failed as it will have dried and shrunken. If the wood looks alive and the buds are full or opening then there is a good chance your graft will take.
Remove active growth and buds from below the graft point as this will take energy required by the healing graft.
If any of the buds on the freshly grafted wood are blossoms then these should be removed. Just pinch them off carefully with fingernails or clip with secateurs. This allows the branch to focus on healing the union and prevents any breakage caused by heavy fruit. This may be necessary on the following year also, depending on the style and state of the graft.
When the graft is part of a larger tree consider periodic pruning or bending down of old wood to encourage development of grafted part(s)
After several months check grafting tape / bindings are not strangling / girdling the healing graft. Some tapes are biodegradable and will split or peel after exposure to summer sun, others require manual splitting with a sharp blade to release the pressure.
Excessive sun and wind exposure can dessicate or dislodge grafts. If your rootstock is in a pot keep it in a sheltered location until the union is solid. A high humidity environment is ideal.